Something a little different from me today... or not I suppose, I do tend to go information digging.
Below I have got the three images that Focus have put up on the Battlefleet Gothic Twitter page, and below I have put my usual data analysis. Whilst not as in-depth as usual due to the relative lack of information, I will do my best to give you all some love info to satiate your desires temporarily until next week.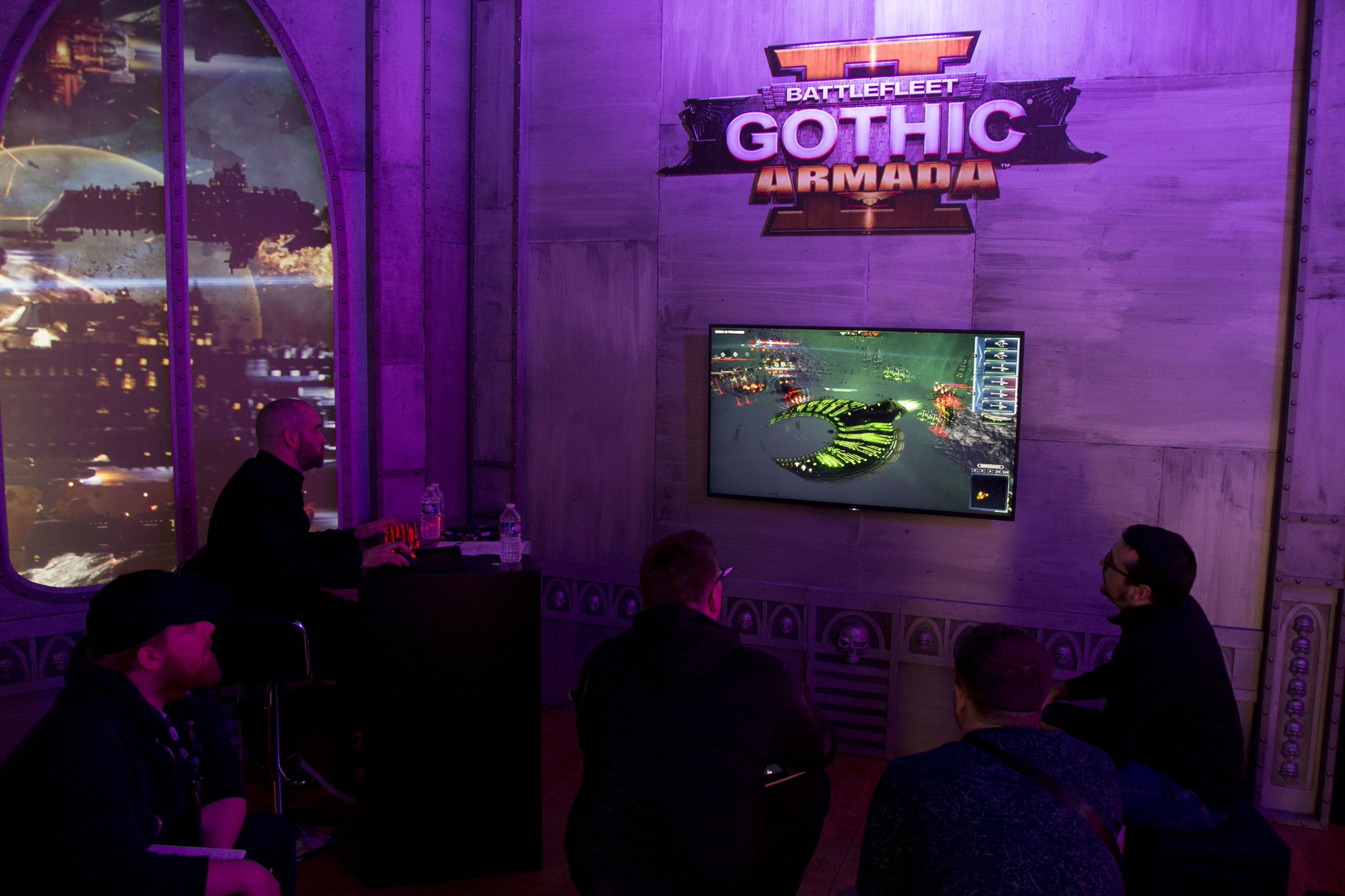 I'll go through this in as much detail as I can. First for the direct, in-game visuals. Things are a bit difficult to make out as it appears the image is a freeze frame from a video and thus has two images blurred together at once, but here is what I can make out.
First and foremost we can see a glorious Cairn Class Battleship up close. Nothing super special about this though, as it is not actively firing or being fired upon.
Alongside it there appears to be a vessel or station within a void shield, and beyond that a variety of Imperial vessels including one which has just had a weapon destroyed.
To it's right though we can see some more interesting things. There appears to be 4 necron structures on the map, and this makes me wonder if perhaps they are a type of turret / station for the necron faction or just terrain pieces.
The other thing of note within the game is the Imperial vessel to the right... It's angling down... We can see that the ships in game still have a peg like line leading from the vessel to the board so this means the game is remaining 2D, but this angling of the vessel could mean that Tindalos are adding some movement for aesthetic purposes which would be amazing.
Now for the gems from this picture: The HUD information...
Bottom Right: We have a Mini Map that is sadly distorted, but the first thing clear is that there is a lot more red than yellow/green in the picture, so outnumbered necron theory remains.
Of even more interest though is the fact that this isn't a live game... this is a replay... They have a replay system already built into the game... Did anyone say commentary friendly?
Top Right: Again we can see these lovely new fleet ship markers, with a clear and concise green line for the ships hit point gauges. The lack of any other gauge shows us that Tindalos are sticking to lore and making the necrons rely on their armour to survive.
As for the fleet itself, we can see 2 Shrouds, 4 Scythes and a Cairn in the fleet. Seems decent, although I do wonder how these lovely looking ship markers will appear when you have larger ship counts in a fleet.
The other thing to note is the clear markers for grouping. We can clearly see that two groups of vessels have been given a joint selection key and its clearly identifiable what the key is.
Top Middle: We can see what appears to be a scoreboard. There is an icon for both teams (Last we saw of the necron vessels they had placeholder symbols from the imperial faction, it appears this is still the case) and what appears to be an actual score, perhaps to show how much damage you've caused? This will be a major plus to the game if it is the case.
Anyway, on to the next picture..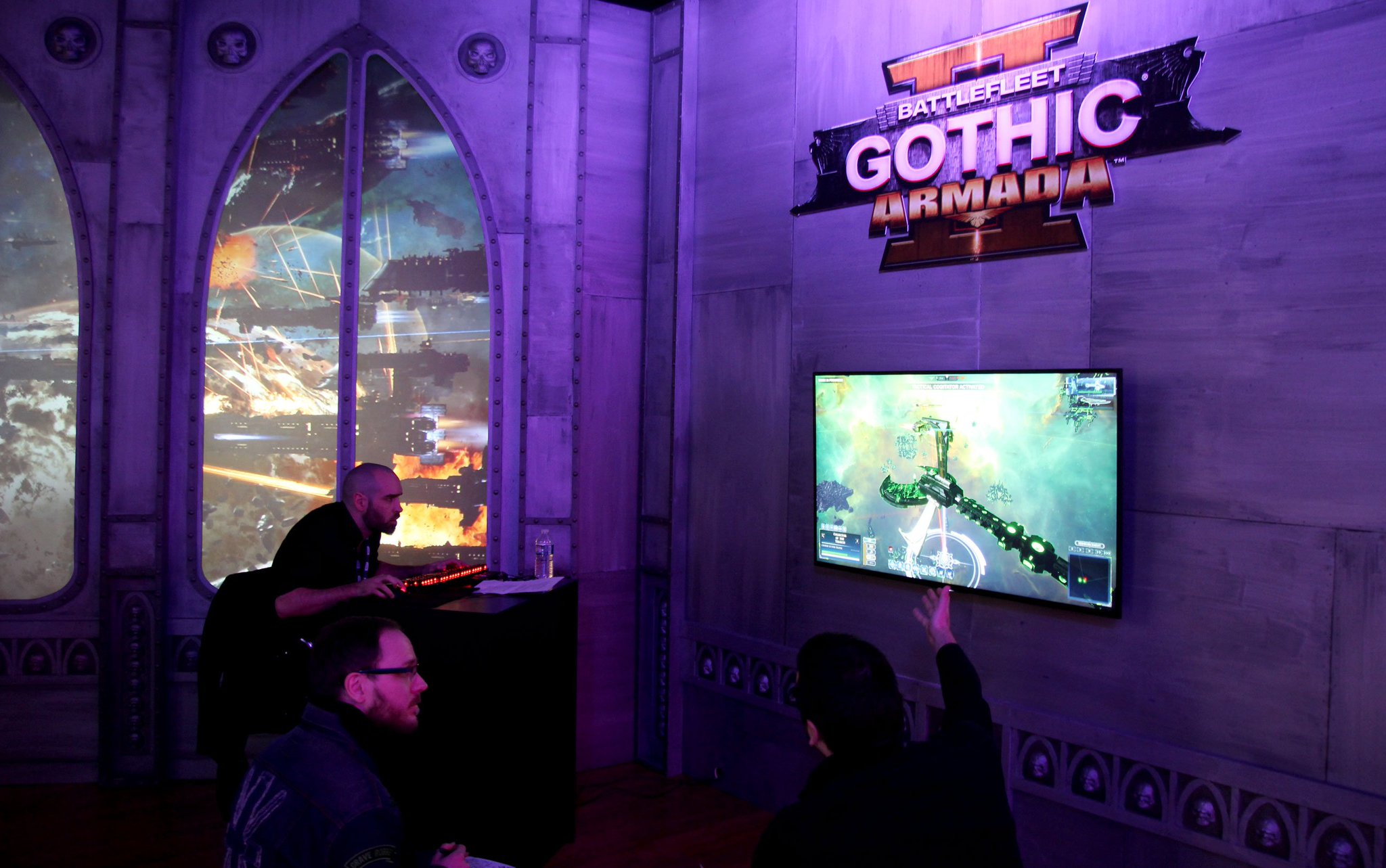 The aesthetics here are simple so I'll just skip them, suffice to say there is a Scythe Class Harvest Ship & some scenery in clear view.
Bottom Right: Again this appears to be a replay, but unlike before this seems to be a ship showcase rather than a match replay.
Top Right: As earlier, clear and concise ship identifiers.
Bottom Left: This was a test of my reading blurred text skills... We first have a large box. It appears to have the vessels name & class listed at the top in clear and easy to read letters, and below it there are what appears to be 2 status bars. One I assume is for HP, the other is currently unknown by me, perhaps the special movements gauge?
Above this box are a series of small icons, based upon previous images I've seen I would be willing to bet that these are to set the ships behaviours. There appear top be 6 options listed there.
To the right of the larger box there appears to be 4 more options of similair sizes, with a larger fifth option above them. I would take a guess that the top box is the auto-attack feature, and the four below it are the movement gauge abilities (all ahead full etc).
Bottom Centre: This is almost certainly an ability gauge, and a simple and well laid out one tbh. There are 8 slots shown for the Scythe Class, with the first four being identifiable as the basic orders from the original game. (Reload, Brace etc)
Top Centre: Similiar to the previous entry, two faction symbols and two apparent scores.
And now onto the final picture, the Imperial Fist Wetdream... (Looking at you @Valrak)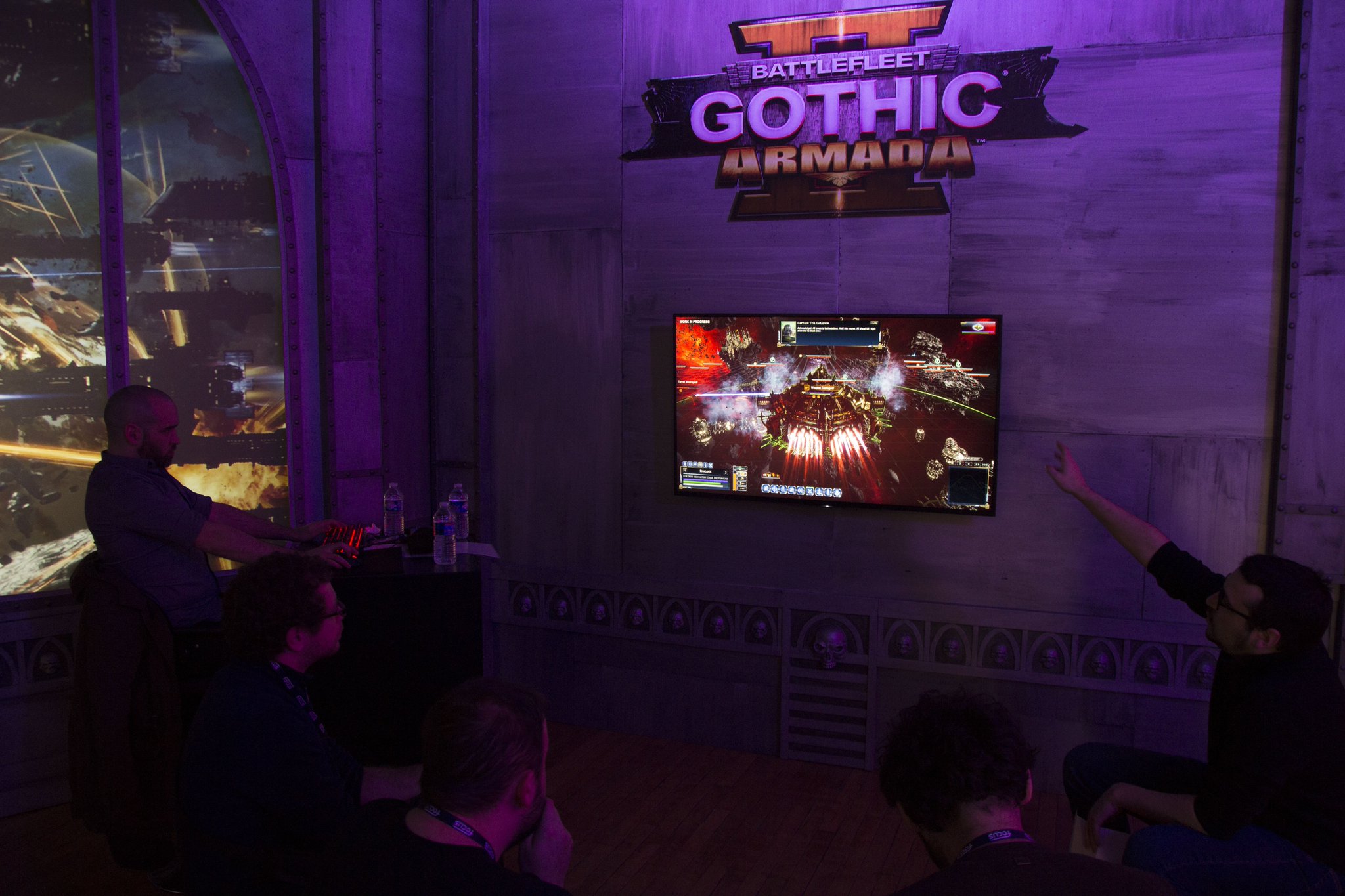 Aesthetics wise, this is first and foremost Imperial Fist Eye Candy... And also blunt force trauma for anyone else... That aside, here is what practical information I can give you.
This is a campaign mission, the message from Captain Tor ____ of the Imperial Fists would indicate this.
The vessel is enormous for BFG standards and appears to be taking on an entire fleet of unidentified attackers. (Possibly Chaos?)
Shields appear to be marked in white instead of blue now, unless the enemy vessels are using an alternative to void shields (such as Holofields.)
And now for the HUD stuff... So much HUD stuff..
Ship Information Box (Bottom Left [Left]): The Ship name is given at the top of the box in large white print. To either side of it are a pair of buttons, possibly to select the next ship in the fleet list? Below this is the vessels class in smaller print, in this case it is still a stand in name. Below that are three status bars. The first bar is the void shield, and this is shown to be recharging in this image. The green bar below it is likely the HP pool due to being green. The third gauge I am unsure of, perhaps representing a new mechanic such as armour?
Ship Manoeuvre Gauge (Bottom Left [Right]): Okay here we can see this area clearer, which means I need to correct myself from before I believe. We can see the gauge on the left, a white box with a orange contents marker to show how much power is left. To the right of it are four options. The top one (selected within the image) appears to be all ahead full. From there I would hazard a guess that below it is the turn manoeuvre, followed by normal speed and full stop. And above all of these is another larger button, which I would still guess to be an auto-attack option.
Ship Behaviour Settings (Bottom Left [Top]): Frankly I am not entirely sure what these are meant to be, so I'll just leave a close up for you to decide upon. (I am very tired atm so I cannot think straight. In the mornign I'll take a look at put an answer I'm sure.)

Damage Indicators (Bottom Centre [Top]): Keeping this one simple, it seems that when systems become damaged an icon appears on screen above the ability bar. Nice and simple, although the one question this raises is the fact that we may not be able to see the ships weapon systems anymore in game. [EDIT: Unless those icons to either side of the ships name are to bring up different info bars with more detailed ship stats and weapon stats, which would be 100% perfect]
Ability Toolbar (Bottom Centre (Bottom]): Self explanatory. We appear to have from left to right: Reload, Improved Targeting, Brace for Impact, Unknown, Silent Running, Boarding Action, Thunderhawk Gunships, Astartes Boarding Ships (Cestus Assault Rams???) and Stormfury Interceptors. (I'm bad at remembering the names.)
That about sums up my analysis. There is more to add and when I am more actively awake I will go over things with a finer comb, but for now I hope this information helps.
Good Luck Admirals,
~Alexi